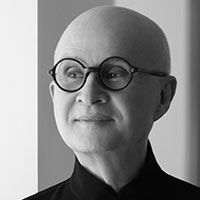 Cuban born Orlando Diaz-Azcuy is one of America's most respected and awarded designers for his elegant, disciplined and intelligent work.

Mr. Diaz-Azcuy earned a degree in Architecture from Catholic University (Washington D.C.), a Masters Degree in Landscape Architecture and a Masters Degree in City and Regional Planning, both from the University of California (Berkeley).

In San Francisco he first practiced with one of the masters of American Landscape Architecture, Lawrence Halprin. In 1976 Mr. Diaz-Azcuy joined Gensler Architects headquartered in San Francisco. Over the next eleven years as design principal, his efforts helped them become the most respected and successful architectural firm in the country.

In 1987 Mr. Diaz-Azcuy founded his own firm. He was recognized in 1993 by readers of the industry's trade magazine Interior Design as one of the five most respected designers in the United States. In 2001 Mr. Diaz-Azcuy opened a second office in New York City.

Mr. Diaz-Azcuy has to his credit many exclusive residential projects for prominent clients throughout the world, along with the design of the "Intermezzo" Lounge for the San Francisco Opera building restoration, and most recently, the redesign of world-renowned Masa's restaurant in San Francisco.

Mr. Diaz-Azcuy's product design has also been well received and awarded. The list includes several furniture collections for McGuire Furniture Co., HBF, Stow Davis, and Steelcase; textile design for HBF Textiles, the Schumacher Company and Pallas Textiles; and a lighting collection for Boyd Lighting.

He was among the first in his profession to be inducted into the industry's prestigious Hall of Fame, sponsored by Interior Design Magazine. Other awards include Interiors Magazine selection as Designer of the Year in 1982, the Star of Design award from the Institute of Business Designers and the Star of Design award from the Pacific Design Center; twice the Charles S. Gelber Best of Competition Award, the Gold Award from FACE (Facts About Cuban Exiles), the Distinguished Alumnus Award from the College of Environmental Design, UC Berkeley, and the Distinguished Alumnus Award from Catholic University, Washington DC. He has also received an Honorary Doctorate from International Fine Arts College in Miami.

In 2009 Rizzoli Publications released a self-titled book on Mr. Diaz-Azcuy's residential interiors, written by Diane Dorrans Saeks. His work has been published in periodicals around the world, including Architectural Digest; House Beautiful, Metropolitan Home, U.S. News and World Report, Interiors, Interior Design, Papercity, The New York Times and Elle Décor. He has also been published in many books, which include Empowered Spaces, Best From the Interior Design Hall of Fame, Showcase of Interior Design, Timeless Design, California Cottages, San Francisco Interiors, House Beautiful Small Spaces, San Francisco Modern, Health Clubs Architecture and Design, Bathrooms, California Interiors, Designers on Design. He has been featured on several television programs including Elle Décor's Homes with Style and the HGTV program Design for Living. During the summer session Mr. Diaz-Azcuy teaches at the Graduate School of Design, at Harvard University.

He is a former trustee of the Board of Directors of the San Francisco Opera Association; a position he also held with both The American Conservatory Theater in San Francisco and University Art Museum in Berkeley.