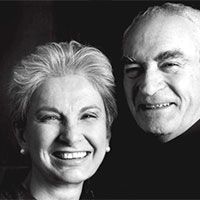 Lella and Massimo Vignelli are renowned for their product and furniture design. Each have an extensive list of industry associations and awards, as well as being widely published and exhibited in the United States and abroad.
Lella, a native of Italy, received a degree from the School of Architecture at the University of Venice and became a registered architect in Milan in 1962. As a special fellowship student, she also attended the School of Architecture at Massachusetts Institute of Technology in Cambridge.
Massimo Vignelli, born in Milan, studied architecture in Milan and Venice. For the past ten years, he has taught a summer course at Harvard University Graduate School of Design and is an active member of the Alliance Graphique Internationale (AGI), the American Institute of Graphic Arts (AIGA) and The Architecture League.
Lella and Massimo joined forces in 1960 to establish the Vignelli Office of Design and Architecture in Milan. In 1971, they formed Vignelli Associates of New York, and seven years later created Vignelli Designs.