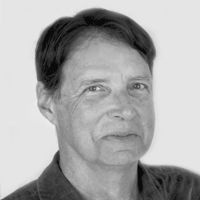 A designer with many North Carolina affiliations, Barefoot was named for his grandfather, a joiner in northeastern North Carolina -- from whom he inherited both a love of tools and woodworking. During Jim's college years, he even set up a small woodworking shop in his dorm room, where he built a banjo and his first chair. After graduation from college, he taught and conducted research in the Wood Science Lab at North Carolina State University in Raleigh. A growing interest in design led to his taking classes at NCSU's School of Design; the result was that his fascination with chairs became fully entrenched. Jim's chair design for his Master's thesis in Product Design won a competition and Jim was awarded a scholarship to Anderson Ranch Arts Center in Snowmass, Colorado. For many summers, Jim has taught classes there and at the Center for Furniture Craftsmanship in Rockport, Maine.

Barefoot began working in the contract industry with a product development position at Stendig International. From there, he moved to Brayton International, where he designed lounge and side chairs; he was responsible for lounge seating product development. In 1994, Jim established his own firm and has since designed seating for AGI, Patrician and now HBF.

Enjoying the entire problem-solving process of development, he maintains a hands-on approach to each design. Because his roots are in woodworking and craftsmanship, Jim approaches chair design with a foundation in geometry and an in-depth understanding of materials and construction. His design process is inclusive -- from initial pencil sketches, to 3D modeling on the computer, to full-scale prototyping in the shop. Jim Barefoot works out of his studio in Winston-Salem, North Carolina, where he lives with his wife, a landscape architect.