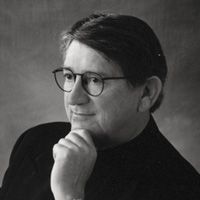 Ken Reinhard is an award winning designer whose designs are known for their simple beauty, subtle design and striking details that highlight the materials' natural beauty. As the Principal and owner of Ken Reinhard Design Associates, Reinhard designed HBF's Camden Side Chair.
Reinhard's interest in furniture began at an early age. As a high school student, he worked part time at Dunbar in the firm's drafting department. From Dunbar, Reinhard went on to study design and received degrees from Kendall School of Design and Michigan State University, where he graduated with honors.
After completing his formal education, he pursued his interest in furniture design and worked as an "in house" designer for several well-known companies. Later he became Director of Design for three different companies.
In the early 70's Reinhard established Ken Reinhard Design Associates, a studio dedicated to the creation of beautiful, elegant and utilitarian products. The firm originally served clients in the areas of Product Design, Interior Design, Graphic Design and Advertising. In recent years, Reinhard has concentrated his efforts in the area of his first love, furniture design.
Reinhard's most recent awards include three consecutive "Best of Neocon" awards and a "Best of Year" award sponsored by Interior Design magazine. In 2010, Reinhard received a "Distinguished Alumni Award" from his alma mater, Kendall College of Art and Design.