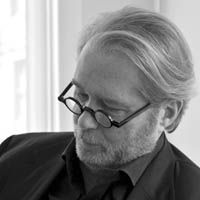 Michael Vanderbyl has gained international prominence in the design field as a practitioner, educator, critic and advocate. Since being established in San Francisco in 1973, his firm – Vanderbyl Design – has evolved into a multidisciplinary studio with expertise in identity, print and digital communications, interiors, showrooms, retail spaces, signage, textiles, fashion apparel, packaging, furniture and product design. Printed work by Vanderbyl has gained recognition in every major design competition in the United States and Europe; his work is part of the permanent collections of several museums and is featured in national and international publications. Vanderbyl's showroom and product designs have also earned numerous awards and distinctions.
Michael received a Bachelor of Fine Arts degree in Graphic Design from the California College of Arts & Crafts in 1968. Today he is a professor and Dean of Design at his alma mater (now known as California College of the Arts). He has acted as visiting instructor at Cranbrook Academy of Art, Art Center College of Design, School of the Art Institute of Chicago, and the Universities of Cincinnati, Kansas and Washington. Michael is the recipient of the Joyce C. Hall Distinguished Chair at the Kansas City Art Institute and been bestowed with the award of Buckman Professor in Design Education from the University of Minnesota.
In 1987 Michael was elected a member of the Alliance Graphique Internationale (AGI), an international graphic design organization based in Zurich. In addition to serving three terms on the Board of Directors of the National AIGA, he presided as President for the 2003-2005 term; he has also served on the AIGA Education Committee and was a founding member of the AIGA San Francisco Chapter. At the San Francisco Museum of Modern Art, Michael holds a position on the Architecture and Design Accessions Committee. Michael was selected as one of I.D. magazine's "I.D. Forty" for 1997 and the same year received the "Lifetime Achievement in Product Design" by the Pacific Design Center. He is a professional member of the International Interior Design Association (IIDA) and in association with their Calibre Awards in 2006; the Southern California Chapter of the IIDA commended Michael with their Lifetime Achievement Award. Michael has also been honored with the Gold Medal award from AIGA and with induction into Interior Design Magazine's Hall of Fame.