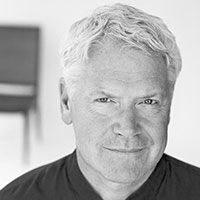 John Hutton was America's preeminent furniture designer. He has been referred to as a national treasure by The New York Times. Hutton's work is characterized by quality, glamour and a classic simplicity. He combined contemporary design with this classical foundation and, in the process, transforms the conventional into the extraordinary.

Mr. Hutton produced more than 200 award winning designs, many of which are collected by such institutions as The Brooklyn Museum and The Houston Museum of Fine Arts.

Mr. Hutton was born in Massachusetts to parents of Scottish heritage. He was educated in NY and San Francisco. And attributes his passion for design to the Scottish tradition of great designers and architects. He was inspired by travel, museums, music, people and sailing. Hutton's elegant and timeless designs for HBF are among his last works; he died unexpectedly in August, 2006.