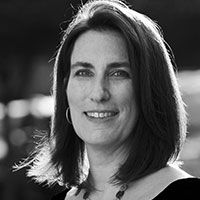 Travis Clifton was born and raised in Atlanta, Georgia and after graduating from Cornell University with a Bachelor of Architecture degree moved to Chicago where she has practiced interior architecture and design for over twenty five years. She has worked for several leading Chicago design firms including ISD, Carlos Martinez & Associates and Gary Lee Partners. While at Gary Lee Partners she headed the Design Studio which was focused on product development and residential work. Travis started her own practice, T Clifton Design, Ltd., in 2005.
Over the course of her career Travis has directed and implemented strategic visioning for several furniture manufacturers, designed furniture and created high quality interior spaces for corporate, retail and residential clients. She has worked with many furniture manufacturers both locally as well as nationally and thoroughly enjoys the problem solving challenge of bringing a piece to market. Her love of manufacturing can be attributed to her Mother who would arrange for Travis and her brother, during their summer months, to visit manufacturing facilities all across the South. Whenever she steps back into a factory she recalls those childhood feelings of pure amazement at seeing something transform as it moves across the assembly lines. Travis's love of design was fostered by her Dad – a 'moonlight woodworker', collector of southern pottery and admirer of contemporary art and architecture. Travis believes a strong concept is key to the development of good design whether it is in the detail of a product or the design of a space and uses that belief to guide her work.
In addition to her own practice, Travis is passionate about travel, family and art - whether she is making prints, visiting museums and galleries or seeking out local craftsmen during her family's travels. Her daily joy comes from searching, seeing and sharing with others the beauty found in this world.